Biden a assuré dans le town hall dédié aux LGBT
Il est aussi très bon en métaphores
Sur la durée accordée aux réponses dans leq débats tv:
---
La Californie est dans le noir, des quartiers, des villes n'ont pas de courant pour eviter des feux de forêt. La gestion des infrastructures a été privatisée et l'entreprise préférait utiliser l'argent pour donner des gros bonus aux patrons plutôt que moderniser ou tout simplement réparer les infras. Résultat, il faut couper le courant pour éviter que les poteaux et relais ne lâchent et causent un feu.
"When someone says, you know, 'are you still beating your wife?' And, and I go, 'I have a long explanation' and they say 'you got 30 seconds to answer' And you say 'No. And then, wait a minute what'd I just say? No, I'm not still beating my wife"
Les turcs ont bombardé les américains

La maison à 1min10…
Pourquoi les gens ils sortent de chez eux par un temps pareil ?

Quasi sûr que la vidéo date d'un ancien événement

Alors qu'il promettait un retour à la maison pour les soldats détachés en Syrie, certains vont aller protéger les raffineries en Arabie Saoudite, car les saoudiens vont payer.
L'armée US se transforme officiellement en mercenaires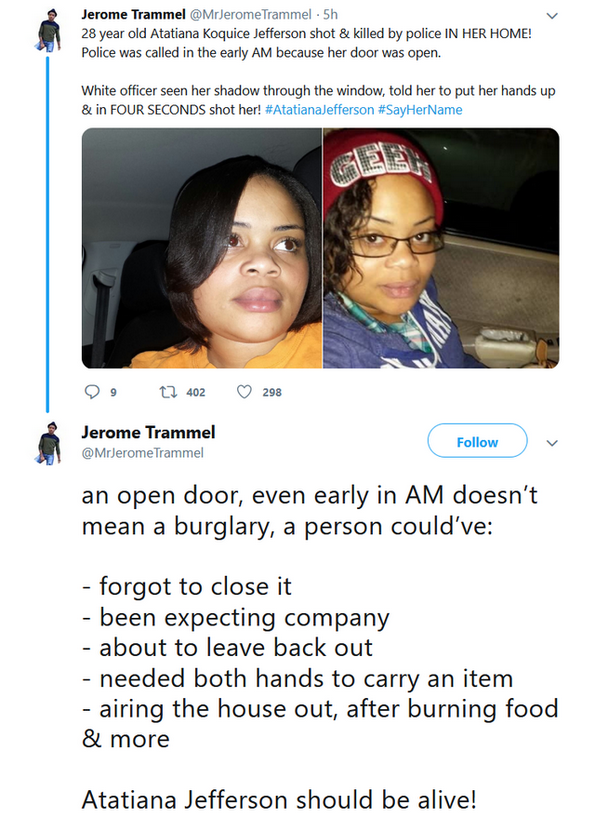 Pauvre France!
Ah, c'est en Amérique ? On a les mêmes policiers en ce moment, désolé pour la confuse!

Trump passe cette vidéo à ses supporters
Vu le nombre de tueurs en masse qu'il a inspiré, c'est moyen moyen

Débat télé pour les Dems hier. Rien de très important à noter visiblement, si ce n'est que Pete Buttigieg divise de plus en plus à cause de ses mensonges sur Medicare for All, Bernie Sanders a été plus agressif que dans le premier débat et Biden a été plus éveillé, mais semble toujours confus.
Warren est la candidate du moment, c'est probablement celle qui fait le plus l'unanimité parmi tous les courants. Même si Wall Street et les gros donateurs sont pas emballés. Les plus à gauche doutent aussi de sa sincérité sur des projets comme les wealth tax ou Medicare. En particulier sur la santé car elle refuse d'affirmer définitivement ses positions.
---
Du côté de Bernie, cette semaine semble décisive, il s'est donc montré plus mordant dans les débats, sans doute pour montrer que la petite frayeur au niveau du coeur est derrière. Et il va avoir 4 soutiens de poids. Ilhan Omar, Ayanna Pressley, Rashida Thlaib et surtout AOC.
Le soutien des trois premières étaient quasi garanti, celui d'AOC l'était moins. La seule progressiste à plaire à certaines élites (comme Hollywood) avait tout à perdre à se positionner aussi frontalement, mais elle a osé. Je pense que les coups bas du parti (ils refusent de financer certains progressistes dans des primaires au niveau local), ou le manque de courage de Pelosi ont du la souler.
La traductrice n'était pas prête à voir Trump appeler l'italien President Mozarella et dire qu'ils sont alliés depuis la Rome Antique
Le roi de la négociation, mesdames et messieurs.
J'ai cru que c'était un fake cette lettre quand je l'ai vue la première fois
On dirait que ça a été écrit par un gamin de 10 ans sans déconner

Mais… il est sérieux ?